I have to say that our four Christmas' were infinitely better than the movie of the same name (starring Vince Vaughn and Reese Witherspoon). We watched that crappy movie at our first Christmas and it was truly pretty crappy. Hopefully VV and RW just made it as a paycheck and not because they thought the script was good.
First Christmas:
We visited with Auntie Heather and Oma in Oshkosh first. All of us crammed in Heather's one bedroom apartment. Surprisingly enough though there was plenty of room for us all.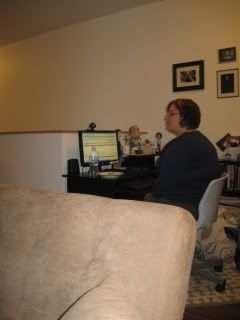 I'm a computer zombie wherever I go.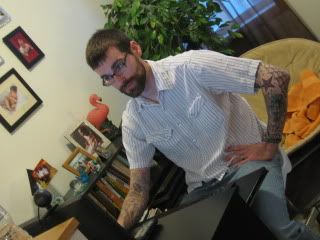 But I'm not the only one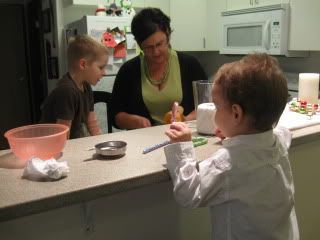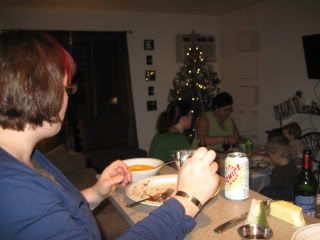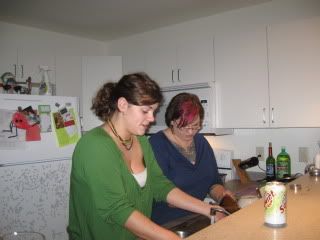 Awwwww, sisters doing the dishes.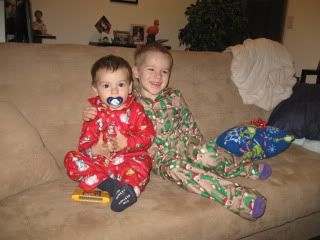 Christmas pajamas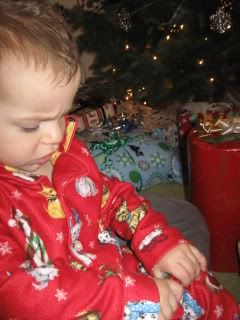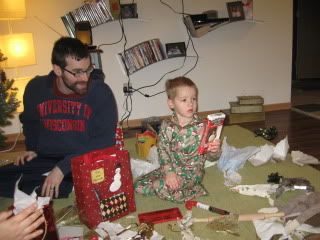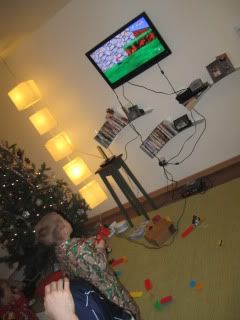 The biggest hit of the day was not any of the presents, but Heather's old N64.
The whole two days there were lovely. Heather made a super delicious tenderloin for Christmas eve and Christmas day was ham (which I couldn't eat because of the September Ham Incident) and ham gravy (which I could eat!). We saw some Christmas lights, told some dirty jokes and had a lot of fun.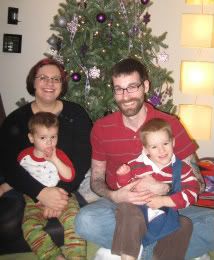 Second Christmas:
We visited Dad and Jeanne next. Crystal was home and Heather spent the night as well. We did brunch with the Hoppe side of the family on Saturday and Carter and Oz were very much spoiled by the gifts. I ate a few too many cookies and still no ham (but thankfully there was turkey to eat as well).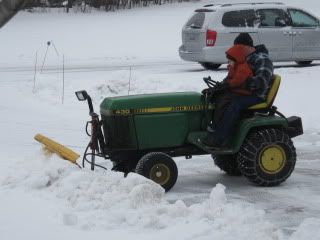 Plowing with Grandpa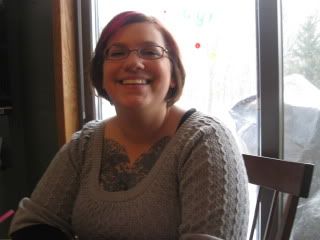 Carter took this picture of me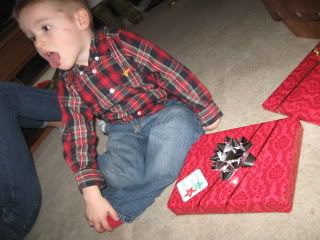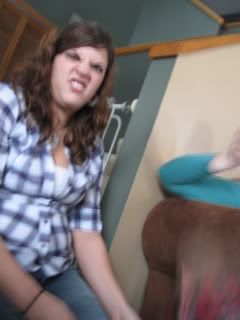 She's such a classy girl, though she has nothing on Wendy Pepper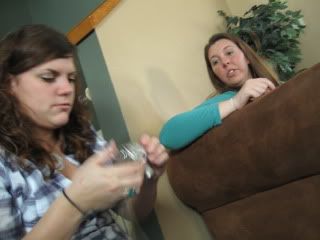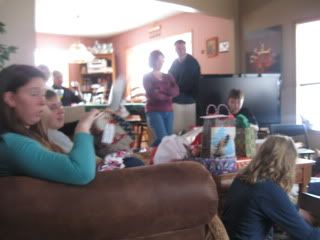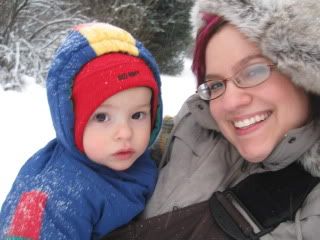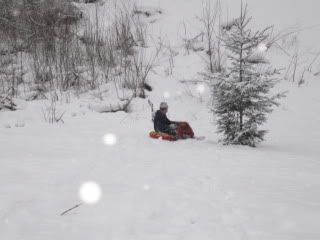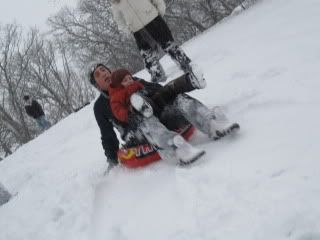 Carter loved playing with his 'cousins' at Dad and Jeanne's. I think he also enjoyed all the cookies. It was a little cold to play outside for very long, but we did get some sledding in. We also managed to squeeze in a visit with Urgrossmutter (Oma's mother) so I guess we'll call that Christmas 2.5.
I'm already noticing that as the week went on I took fewer and fewer pictures. Hopefully I managed to get some of the fourth christmas.
Third Christmas:
We stopped over in Oregon to visit with Meghan, Dan, Noah, Xander and Sera.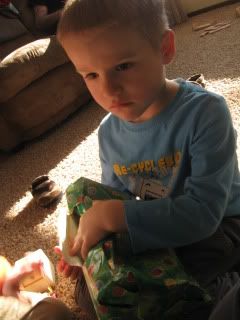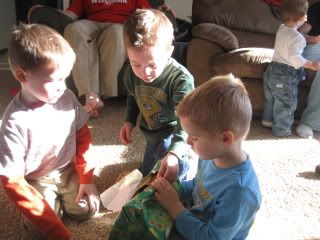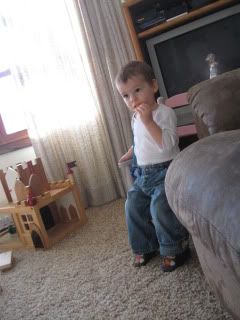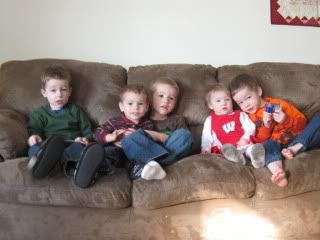 Our most successful couch picture yet.
Madison was fun. We met with our friends Ehron and Stephanie for lunch at the Thai restaurant (mmmmm, red curry) then the kids opened presents and Dan and Meghans. Meghan and I high tailed it out of there and went to a few yarn shops and fabric stores. Yarn and needles were Meghan's Christmas gift, knitting lessons came later in the night. We came home to find the boys (big and little) playing original Nintendo, which they were all enjoying.
Fourth Christmas:
Lastly we stopped at Parry and Suzanne's for the Lawson Christmas.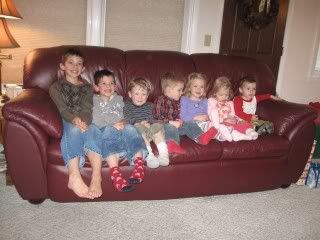 All the grandkids. Carter was not interested in having his picture taken.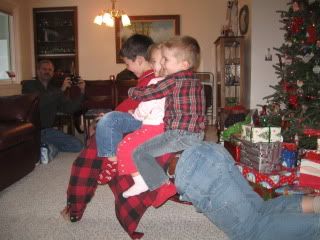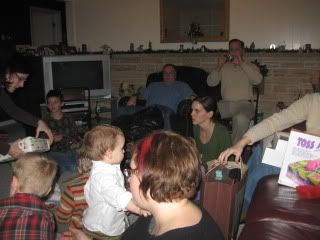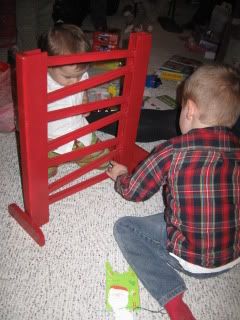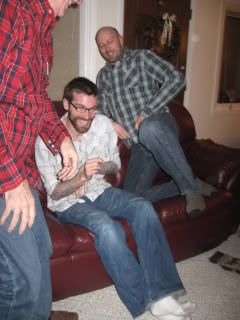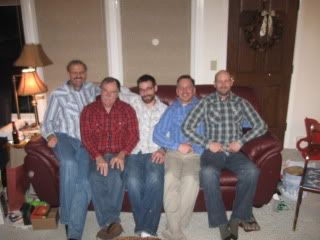 All of the pearl snap shirts Andrew received. Yes, he is sort of a loser sometimes.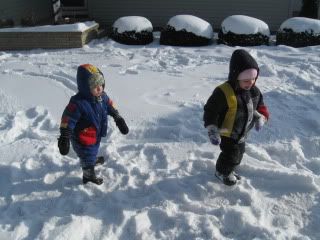 You can't really tell, but they're walking on a good 18 inches of hard packed snow.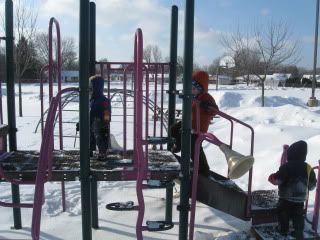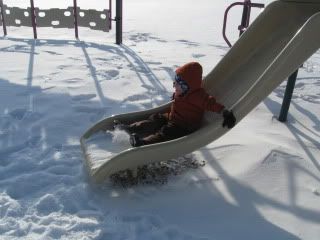 And then we drove home. We survived, we had fun, we spent a lot of money, we got to see a lot of people. Thank goodness we don't have to do it again until next year.