Summer is so horrible. Fat people and humidity don't mix. Up until this week the weather has been unseasonably cool here, which suits me well, but this week things are starting to warm up to what summer is usually like here in the dirty south so expect to read much more bitching by me, hopefully accompanied by many pool pictures.
All of us will be in Milwaukee the weekend of July 4th. My 10 year high school reunion is the 3rd so we'll be driving up for that. I'll be attending the reunion with Heather as Andrew has no interest in going. Saturday we'll head down to Summerfest for music and a strongman competition and then we'll either watch the fireworks downtown or head back to Sussex to watch them at Sussex park. Sunday we'll go to the zoo or museum if it's raining and Monday we hop on home.
Dad came to visit the last weekend in May to help with the basement. He stayed several days, which was really nice since normally he's just stopping through as he lives his glamorous jet-setting lifestyle. He was hugely essential to the basement redo.
Working with Carter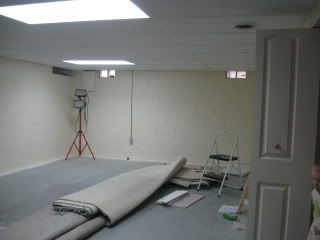 In progress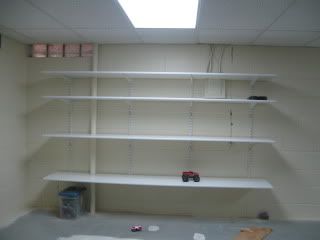 I prepped the basement by cleaning out the bad side, reorganizing it and moving all the good side furniture over there. I cleaned it all, put some Kilz over the water stains and then painted the entire thing (with a tiny bit of help from Andrew and Carter). Once Dad was here we bought the rest of the supplies (I had purchased some earlier, on sale) and got going. We hung the ceiling, which took most of the time. We also put the door in between the two halves, filled in the drain hole with mortar, hung shelves, did a bunch of wiring, messed with the heat exchange made numerous trips to Menards, and one trip to Builders Warehouse where we drove around for 20 minutes lost because I was looking for it on the wrong street.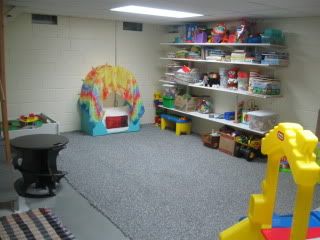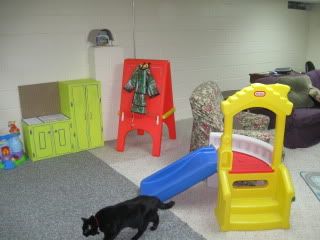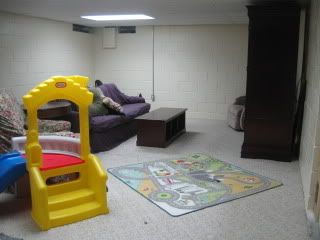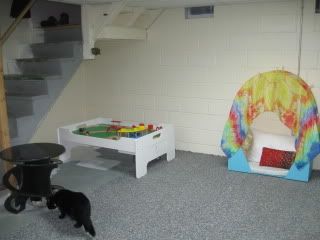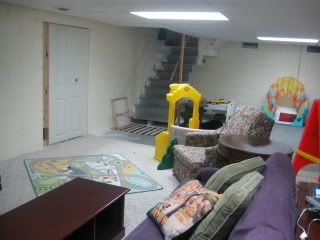 There's still lots left to do. I need to add trim to the stairs, put some sort of banister up, paint the stairs and cement, put molding on the door and paint the molding and door, recover the furniture, make curtains, finish carpet with transition strip, paint the stairs and floor and put vinyl baseboards up, but as it stands now it's certainly usable.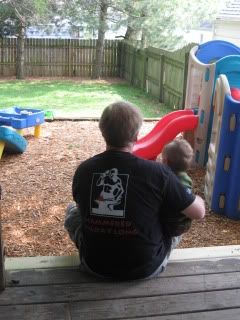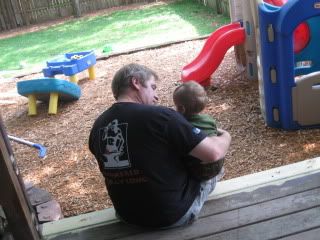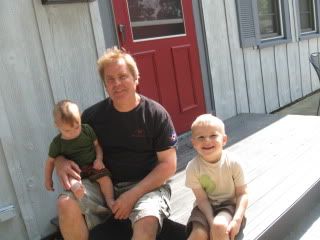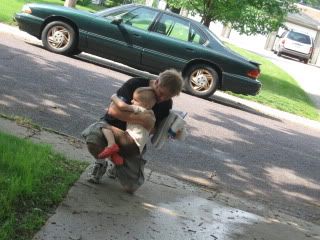 I love this one.
Other than that, we've been going to playdates, hanging out with friends, enjoying the basement and backyard and eating ice cream. Meghan moved back to the midwest, which I'm very excited about. I haven't had a chance to see her yet (she took a fabulous European vacation and is now on her way to try out for Wheel of Fortune), but I'm hoping she can come down to visit soon. She hasn't been here since the boys were small and it's definitely her turn to visit me. She's with her mom now, but will be in Madison as Dan has taken a position with the university. Hopefully I'll be able to see her much more often now.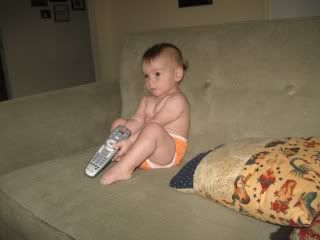 Oz likes to pretend he's watching TV.
Andrew and I celebrated our 6th wedding anniversary. We both forgot about it until the day before, which is super lame, so we did a not very anniversary-ish picnic with the kids.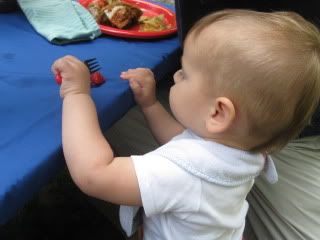 Trying to eat a raspberry with a fork.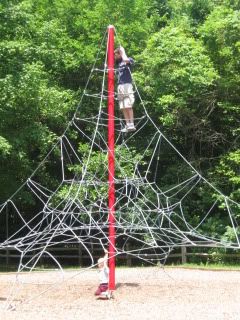 Super, duper cool climby death trap of fun at a nearby park.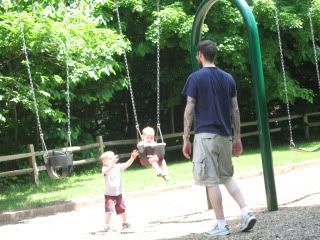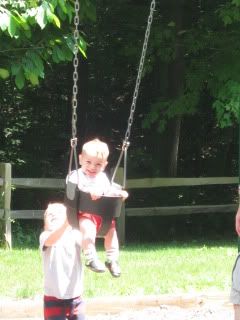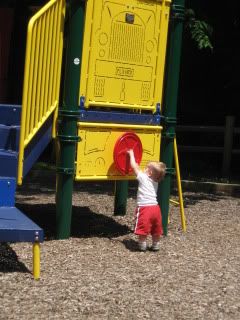 Oz enjoys the park.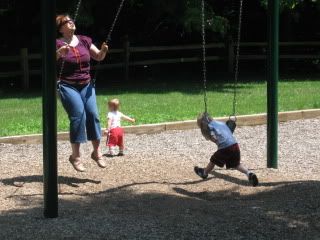 The one picture of me that's been taken in the last three months.
We went to the zoo today. The Peoria zoo sucks, as anyone of you who has been there can attest to, however they've been working on a $30 million dollar expansion for some time and the new part of the zoo is awesome. It follows with the current trend in zoos to have more natural looking habitats and walking paths, taking you closer to the animals and having much better landscaping. I was very please with it. Carter thought it was awesome.
Oz like the soda machine in the old part of the zoo best.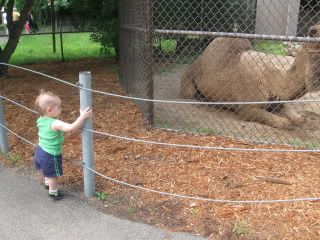 He was actually not interested in that camel at all (also in the old part of the zoo). I totally staged that picture. He ran off to try and eat some old food of the ground a moment later.
Lastly, Carter has been asking me to sew for ages. He watches me sew all the time and knows the ins and outs of my sewing machine (Have I mentioned my new machine? I bought it from a friend and it's leaps and bounds better than my old machine. I'm very much in love with it.) He knows what the pedal does, how to put down the presser foot and lift it up. He'll stand on the back side of my machine and lift it up and down for me. If I get up he hops in my chair and tries to take the bobbin in and out and messes with the thread to rethread the machine, twirls knobs and all sorts of cute and horribly annoying things.
Some time ago we went to the fabric store and chose some fabric for him to make a pillow. We were finally able to sit down today while Oz was napping and sew. He sat in my chair and I raised the pedal up so he could reach it. He sewed the entire pillow, stuffed it and then worked with me to close up the opening by hand. He was so proud of himself.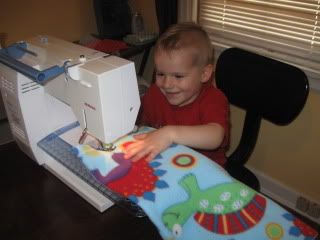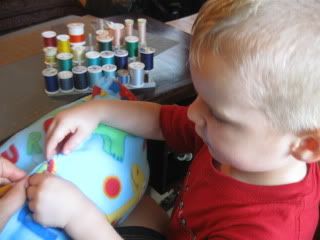 Watch the video, it's super adorable.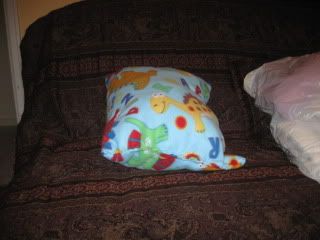 The finished product.